Remember Avatar? Sure, it's a little odd that one of the biggest movies in the history of cinema feels like a strange and distant dream. But with the sequel, Avatar: The Way of Water, finally arriving, 13 years on, we're all about to go through a James Cameron refresher course. Okay, bootcamp.
Back in 2007, most critics loved it ('Mr Cameron's singular vision has upped the ante for filmed entertainment', raved the Wall Street Journal), though a few failed to take the big, blue, 3D bait ('All the money in the world is no substitute for fresh ideas and a solid script', grumbled, well, Time Out). But with the help of a global 'Avatar Day', and the then-burgeoning 3D revival, it made an absolute motza at the box office.
Avatar's record-breaking $2.8 billion has since been challenged by Avengers: Endgame, but someone's going to need to hold Cameron's beer because he has four sequels storming down the pipeline. Will there be the same appetite for Pandora's CG-heavy visuals? Are audiences ready to don those 3D specs again? They're impossible questions to answer, but anyone taking cheap shots (or name-checking FernGully: The Last Rainforest or Smurfs) is in denial over the blockbuster master's instincts for what gets bums in seats. Here's what we know so far.
When will Avatar: The Way of Water be out?
It's out worldwide on December 16, 2022.
Is there a trailer for Avatar: The Way of Water?
Srane! (That's 'yes' for non-Na'vi speakers.) In a piece of Disney marketing synergy, the teaser initially played ahead of theatrical screenings of Doctor Strange in the Multiverse of Madness, but now it's up online for all comers. Check it out below.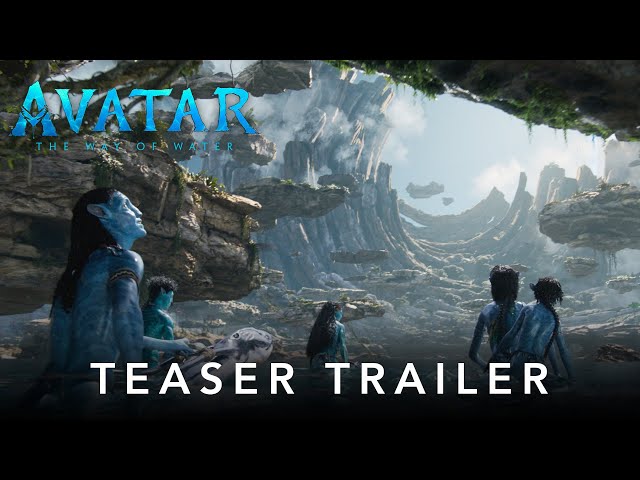 Will Avatar: The Way of Water be in 3D?
Yes. James Cameron will be aiming to pull off his greatest feat with this film: not only matching the ginormous box-office of the first movie but persuading cinemagoers to re-embrace 3D and those no-less-clunky glasses that come with it. We suspect he'll manage it.
What is Avatar: The Way of Water about?
As with the visually resplendent but narratively slight trailer, story details are still the 'broad brushstrokes' variety. We do know that it will pick up a decade or so after the events of Avatar, with Jake Sully, now fully Na'vi, living a family life with his partner Neytiri and their kids. This will not involve Sunday outings on the pet Leonopteryx and bickering over who was in charge of getting the homework done. Instead, runs the official blurb, The Way of Water will recount 'the trouble that follows them, the lengths they go to keep each other safe, the battles they fight to stay alive, and the tragedies they endure.' Welcome back to Pandora.
Do you need to be able to remember the first Avatar?
It definitely won't hurt to revisit it. The key points to remember? Wheelchair-bound ex-soldier Jake Sully has gone fully Na'vi, using the avatar technology to join the Omaticaya tribe for good, and leaving behind a hostile human garrison at Pandora's Hell's Gate. The bad guys are rapacious colonists known as the RDA (Resources Development Administration), whose plan to strip the planet of its precious Unobtanium resources were hampered, though probably not ended, by Quaritch's defeat in Avatar's climactic Hometree battle.
And if that's not helping, the first Avatar is being re-released in cinemas on September 23. Or you can watch it on Disney+.
What's different this time?
The title holds the answer: water. Lots and lots of water. 'I'm going to be focusing on the ocean on Pandora, which will be equally rich and diverse and crazy and imaginative, but it just won't be a rainforest,' Cameron told the LA Times back in 2010. And he's been as good as his word. The trailer introduces a watery realm that will showcase the fruits of some painstaking underwater performance-capture: free-diving Na'vi and so-far-unnamed beasties are rife, including the croc-swordfish-butterfly-looking creature that transports Jake across the ocean's surface, and a whale-like creature providing a serene, David Attenborough-esque interlude.
And as well as new flora and fauna, Avatar 2 will introduce new Na'vi tribes, including the seafaring Metkayina. 'In the first movie, we really only met one clan, the Omaticaya,' said producer Jon Landau in a 2019 Q&A. 'But if a clan has lived forever on the oceans, they're culturally gonna be very different to a clan that has lived in the rainforest.' Establishing the anthropology of the Na'vi had Cameron going deep in Avatar. He'll be going even deeper this time.
Finding a way of stitching the two films together falls to Josh Friedman. The Avatar 2 screenwriter wrote an early draft of Spielberg's War of the Worlds, and worked on Terminator: The Sarah Connors Chronicles and the Snowpiercer series, so he has sci-fi in his blood.
Who is returning for Avatar: The Way of Water?
Surprisingly, Stephen Lang's deceased Colonel Quaritch is back to haunt Na'vi nightmares – presumably in a new, mean, A.I.-enhanced form. The hard-driving, gung-ho corporate enforcer is known for his scarred face and excellent line in motivational quotes ('As head of security, it is my job to keep you alive. I will not succeed'). He was dead, as that iconic Crank tagline runs, but he got better.
In fact, Avatar 2 promises almost as many reanimated corpses as a George A Romero marathon. Sigourney Weaver, whose character, Dr Grace Augustine, also perished in the first film, returns, too. Again, her role is a mystery so far but we know that she'll be appearing in all four sequels.
Other returning cast members include Giovanni Ribisi, Joel David Moore, Dileep Rao, Matt Gerald and CCH Pounder.
Who is joining the Avatar: The Way of Water cast?
Newbies include the very-much-having-a-moment Michelle Yeoh, as well as James Cameron's old mucker, Kate Winslet, getting back in the water for her Titanic director as the free-diving Ronal, a member of the Metkayina tribe.
The Sopranos' Edie Falco, meanwhile, is playing General Ardmore, head of the RDA forces. Yeoh is a (human) scientist called Dr Karina Mogue. 'I would be the tea lady for James Cameron,' she joked in EW.
Game of Thrones' Oona Chaplin was also rumoured to be appearing in Avatar: The Way of Water, but as Indiewire confirms, her character, Varang, will first appear in the third film.
Why has Avatar 2 taken so long?
With the pandemic and Cameron's unusual four-in-one production plan, the making of this sequel has been almost as epic as the film itself. Covid has pushed the whole release schedule back by two years: in a parallel, non-viral universe, Avatar 2 would have been out last Christmas.
In the spirit of Colonel Quaritch, Covid-19 ate the production schedule's eyes for jujubes. When Cameron and crew landed in Wellington to start work in early 2020, it kicked up a stink among New Zealanders in lockdown, wondering why Hollywood big cheeses really counted as essential workers. Then came a production shutdown, then a resumption, then finally a wrap in September 2020.
Mostly, though, it's just a colossal beast to rope down. Four interlocking stories, motion capture, a bazillion VFX shots and a pandemic will require a lot of rope ($1 billion's worth over four films, if estimates are correct). Cameron, though, has been bullish throughout. 'You will shit yourself with your mouth wide open,' he told Empire in 2014.
When does Avatar 3 arrive?
Avatar 3 is scheduled for December 2024, with Avatars 4 and 5 landing in cinemas in December 2026 and 2028 respectively.  Mother Eywa awaits you…