Visible has been making waves amongst prepaid carriers with just two unlimited plans that shine with a capable phone. While Visible's prices draw you in, the strong coverage and performance on the Verizon network make it worthwhile. The only problem is that Visible doesn't support as many phones as other carriers but it still works with a handful of great Android phones, including those with 5G. The Google Pixel 7 Pro is one of the best Visible phones, thanks to powerful hardware with 5G and a pure Android experience with plenty of updates on the way.
Best Visible phones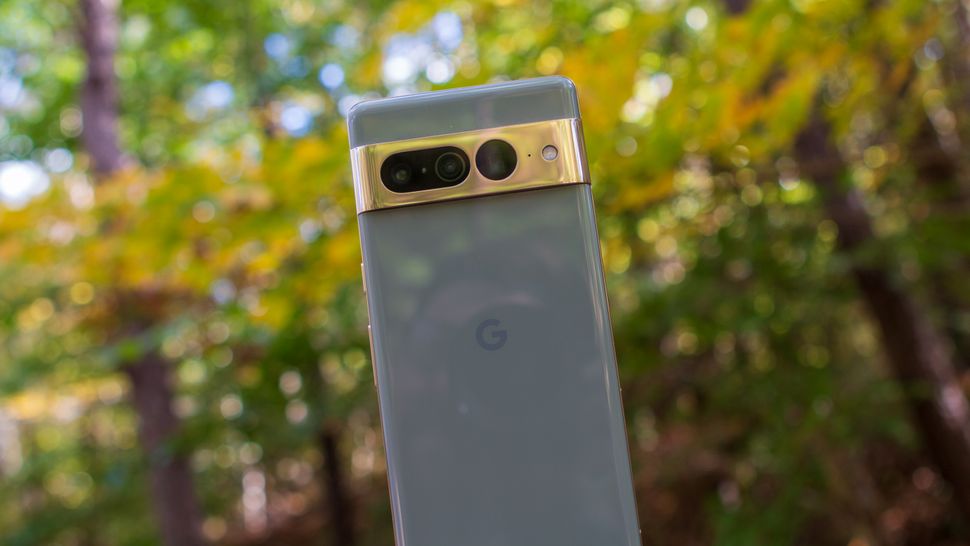 (Image credit: Andrew Myrick / Android Central)
Iteration at its best
Today's Best Deals
Reasons to buy
+
Some of the best cameras of any phone
+
Telephoto camera with 5x zoom
+
Powerful Google Tensor G2 CPU
+
Clean Android 13 build
+
Vibrant 120Hz display
Reasons to avoid
–
Face unlock isn't as reliable as it should be
–
No charger in the box
While the cameras aren't the only thing that Google got right with the Pixel 7 Pro, they're definitely the headlining feature. Our Pixel 7 Pro review found the main 50MP camera delivers great photos with a lot of contrast and sharpness that doesn't go overboard. The main camera story with this phone however is the 5x telephoto lens buried behind the metal camera ridge on the back of the phone. This 48MP shooter lets you get closer to your subject and Google's AI is able to keep the images from losing detail. That's before you remember some of Google's software tricks like Magic Eraser and Photo Unblur.
Under the hood, you get the latest generation chip from Google, the Tensor G2 which doesn't offer any major improvements in raw performance but is essential to the phone's AI tricks and keeping Google Assistant at the ready at all times. The power is more than adequate for anything you need today but may begin to fall short of some other flagships in intense loads in the next couple of years. Luckily, 5G support is strong with sub-6 and mmWave including C-band which makes up most of Verizon's fast 5G coverage.
The Pixel 7 Pro's launched with Android 13 and can easily make it to the end of the day on a charge. This is good as the phone only supports 30-watt charging speeds, which is common on smaller phones but a bit disappointing on a Pro model device. It's also worth noting that Google has decided not to put a charger in the box so you'll need to find your own.
(Image credit: Nicholas Sutrich / Android Central)
Pure Android with a great camera
Reasons to buy
+
Phenomenal camera
+
Beautiful AMOLED display with 90Hz
+
Smooth performance
+
IP68 water resistance
+
5G support with C-band
Reasons to avoid
–
Some won't like the large camera bump
The Pixel 6 from Google is no longer the newest flagship from Google but it's still got plenty of power for most people. Using Google's custom first-generation Tensor chipset, the Pixel 6 works great with Google's build of Android including features like image processing and Google Assistant. Even though the Pixel 7 is available and comes with some solid upgrades, the Pixel 6 is still a very modern phone with Android 13 and significant savings at a lot of retailers.
The cameras are nearly impossible to miss hiding behind a large black bar on the back of the phone. A 50MP main camera works with Google's camera app to churn out some of the best photos ever taken on a phone. With significant advancements over the previous generations, the Pixel 6's camera delivers beautiful images even in challenging lighting situations.
The Pixel 6 also has support for Verizon's 5G network including nationwide 5G and the faster C-band 5G. So while you won't get access to mmWave speeds, you should have more than enough performance for just about anything you want to get done on a phone. This phone also has excellent LTE support for those living in areas that Verizon's 5G network has yet to be covered.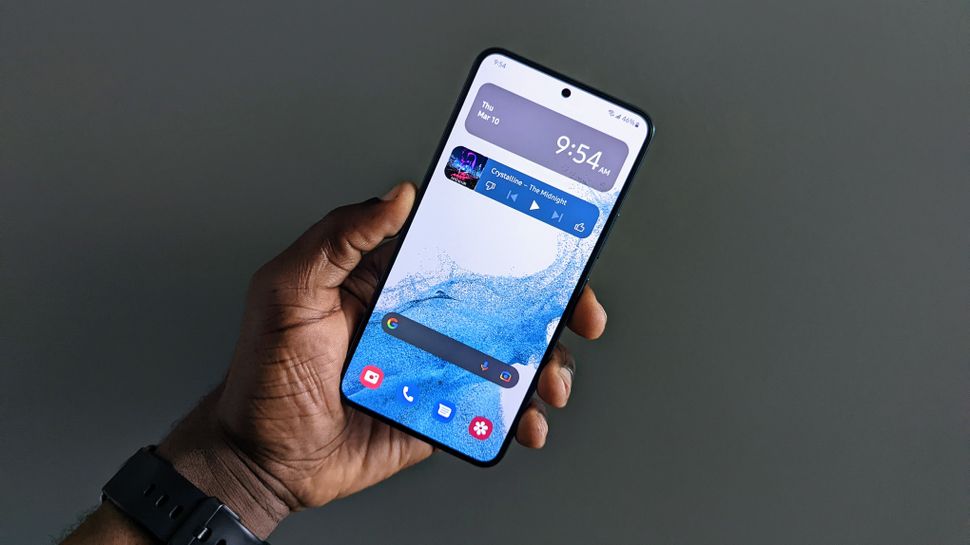 (Image credit: Derrek Lee / Android Central)
Perfectly balanced hardware
Reasons to buy
+
Beautiful 6.1-inch 120Hz AMOLED display
+
Great 5G support on Visible
+
Fast CPU performance
+
Stellar camera quality
Reasons to avoid
–
Battery life could be better
–
Camera can be slow
The Samsung Galaxy S22 is the smallest member of the S22 family with a 6.1-inch display, but it still packs quite a punch. The Snapdragon 8 Gen 1 processor under the hood has more than enough power to keep Android 12 effortlessly humming and makes this one of the best Android phones for gaming, even if it does get a bit warm. It's supported by 8GB of RAM with the option for 128GB or 256GB of storage.
The relatively small 3,700mAh battery isn't as big as some other flagships but luckily it supports 25W charging so it can be topped up in a hurry. This phone also has great 5G support with both sub-6 and mmWave support including C-band. The cameras are excellent with a 50MP wide, 12MP ultra-wide, and 10MP telephoto options so you have the lens you need to take the best photo possible.
The S22 is available with Android 12 right away and Samsung has announced intentions to upgrade the phone with four Android versions, so this phone won't be out of date any time soon. As we found in our Galaxy S22 review, the S22 is beautiful in green with the choice of white, black, and pink gold if you want a different color.
(Image credit: Harish Jonnalagadda / Android Central)
Galaxy features with a mid-range price
Reasons to buy
+
Strong 5G capabilities
+
Large 120Hz 6.5-inch AMOLED display
+
Huge 5,000 mAh battery
+
Solid camera system
+
IP67 dust and water resistance
Reasons to avoid
–
No 3.5mm headphone jack
–
No included charger
Samsung has decided to take aim at affordable mid-range phones with the Galaxy A series and the Galaxy A53 5G is the best the line has to offer. Our Galaxy A53 5G review found the phone to have decent performance with its Exynos 1280 octa-core CPU. It's not breaking records in benchmarks but it's got enough power to keep Samsung's version of Android 12 humming along nicely. Speaking of software, Samsung has also committed to a plan of four Android OS updates so Android 13 and beyond should be coming.
 The camera system is another strong point with good results in a wide range of lighting conditions. The main camera has a 64MP sensor that is an upgrade over the previous generation Galaxy A52. Its photos don't quite match mid-range Pixel phones but are still a strong point for this phone. This phone's battery should easily make it to the end of the day, even with a lot of camera usage, thanks to a 5,000mAh battery. The phone also supports up to 25-watt fast chargers though there isn't one in the box.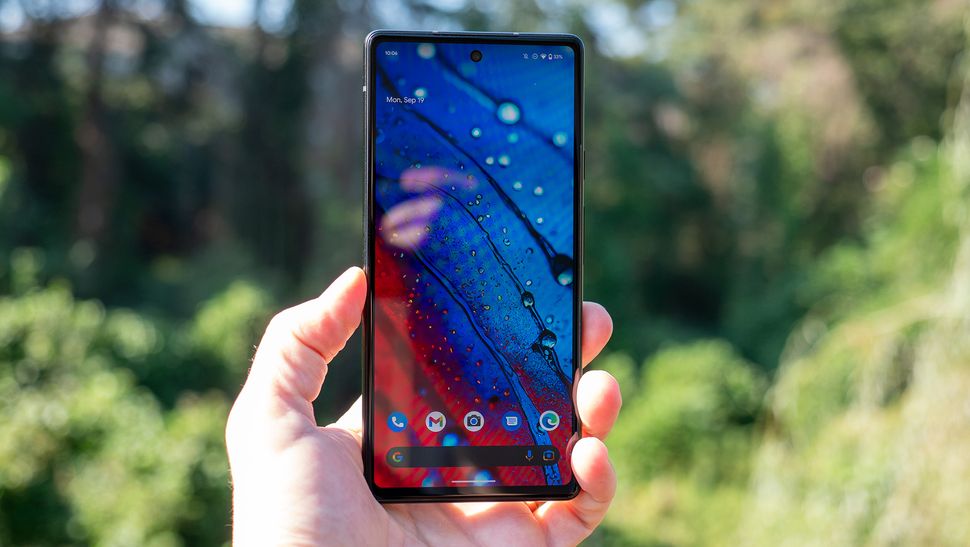 (Image credit: Nicholas Sutrich / Android Central)
All about the camera
Today's Best Deals
Reasons to buy
+
Fast Google Tensor CPU
+
Nice 6.1-inch AMOLED display
+
IP67 dust and water resistance
+
Android 13 update ready to install
Reasons to avoid
–
No headphone jack
–
Slow 18-watt charging
If you want the performance and features that come with Google Pixel phones but don't want to save some money, the Google Pixel 6a is the perfect choice. It still comes with the speedy Google Tensor CPU so you get all of the camera enhancements and AI features at a lower starting cost. Compared to the full Pixel 6, you give up a little RAM, have a slower 60Hz display, and lose wireless charging, but for many people, that will be worth it.
The camera system is perhaps the biggest surprise as our Pixel 6a review notes that the cameras are "every bit as good as the Pixel 6's camera" with the sample shots to back it up. The results speak for themselves and for the photographer on a budget, this is one of the best cameras you can get.
The phone shipped with Android 12 and has since been updated to Android 13 so you can be on the latest OS version right away. Google has also promised five years of security updates so you can keep using this phone for years without worry.
(Image credit: Nick Sutrich / Android Central)
Great hardware with frequent software updates
Reasons to buy
+
Massive 6.8-inch 120HZ AMOLED display
+
S Pen included
+
Great performance
+
45W charging
+
5 years of software updates
Reasons to avoid
–
Too big for some people
–
Camera can struggle on moving objects
The Samsung Galaxy S22 Ultra is an impressive and massive phone that follows in the footsteps of the Galaxy Note series. The massive edge-to-edge 6.8-inch AMOLED display is the perfect fit for the included S Pen, allowing for precision input and handwriting. Under the hood, it gets the same impressive hardware as the smaller S22 phones with a Snapdragon 8 Gen 1 CPU paired with 8GB or 12GB of RAM. Naturally, its 5G support should work great with Visible's Verizon-based network including 5G.
The 5,000mAh battery is large enough to make it to the end of the day with ease but if you're a heavy user, you can charge it back up in a hurry thanks to 45W charging. It ships with Android 12 and will be upgraded with four major Android updates — that's Android 16 in 2026  — so this phone can last you for years and should also be able to hold its value better for resale.
If you're looking to make the most of Android, the Galaxy S22 Ultra is one of the best phones you can get. As we found in our S22 Ultra review, its massive power, fast CPU, great network support, S Pen, and of course, a big beautiful display makes it a good pick for those that aren't immediately put off by its high price. 
Find a phone that fits your budget and needs
One of Visible's most significant weaknesses is its Android support, especially for more niche models. Still, Visible has been improving Android support, and it now supports many of the best Android phones you can get. Still, a growing number of phones support the full network with new options available all the time. Luckily Visible supports 5G on both of its plans with Visible+ offering faster C-band and mmWave support.
Unsurprisingly, the Google Pixel 7 Pro is one of the best phones you can get for any carrier and it works perfectly on Visible's network. Google's phones, even the most expensive model, are also priced competitively and are cheap enough that many people can buy them unlocked so they're not tied to a carrier. If you're looking for a phone with a phenomenal camera system, up-to-date software, and strong 5G support, the Pixel 7 Pro is one of the best phones you can get. 
Round up of today's best deals