UNION, W.Va. — On a remote mountain top along the West Virginia/Virginia border in Monroe County, West Virginia a pipe, attached to a small building, holds up a series of antennas. The aluminum contraption and its silver limbs is a throwback to the early days of television in America. The aerial gives it the look of a typical American home of the 1950's and 60's.
Although the technology may be dated, its newest evolution holds a tremendous opportunity for studying wildlife movement.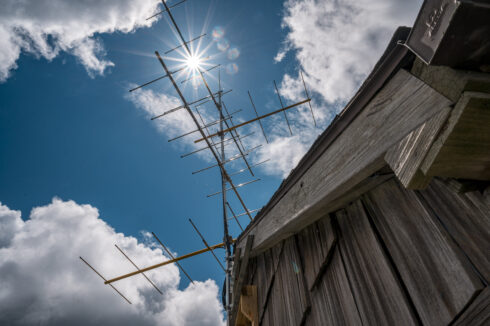 "It's old radio telemetry technology, but with a new technology twist," explained Mack Franz, Zoologist with the West Virginia Division of Natural Resources Wildlife Diversity Programs.
According to Franz, the antennas pick up UHF frequencies put off by radio transmitters implanted in wildlife for research purposes. The modern software is able to differentiate each individual transmission and isolate it to a single source.
"It's all just one dedicated frequency instead of a different frequency for each animal. Radio tags have their own unique pulses. They are different by microseconds, but the computer is able to tell the difference in each one individually," he explained.
So theoretically, the software would be able to read a transmitter put on a woodpecker in Pittsburgh or a golden eagle in a completely separate study in the Monongahela National Forest in Pendleton County.
DNR personnel recently installed the antennas at the Hanging Rock Observatory on Peters Mountain in Monroe County. The former fire tower has become a dream location for birdwatchers hoping to catch a glimpse of migratory birds. The line of site to a like sized ridge top is 40 miles and gives a lot of ground to pick up remote radio frequencies. The Division of Natural Resources is just getting into the game in this particularly application of the technology, but with Franz's leadership they hope to establish a network of observation points all around the state. The plan is to tie West Virginia in with the International Motus Network.
Motus, Latin for "movement" is a series of similar observation towers around the world to aid in national and international study of wildlife movement and other activities.
"Our goal is to determine the spatial and migratory patterns of species of greatest conservation need that we track in our state wildlife action plan," said Franz.
The agency has developed a blueprint for positioning towers around the state to use the technology for all types of telemetry research.
"This is the first one, but we're trying to figure out the other strategic place.There's another tower over on the Ohio River Islands National Wildlife Refuge and we're considering other towers over in that area," he said.
The monitoring equipment can pick up signals not only by land, but in the case of the Ohio River can read signals emitted by tagged fish or other aquatic species in the water. Establishment of the network would create many opportunities for observation and research for all current and future studies.
The DNR uses telemetry for a wide array of wildlife research work. Bears, deer, elk, wild turkey, musky, and a host of smaller critters have been the subject of telemetry work at one time or another.
"The antennas we installed can track a lot of cool things, such as movement patterns and where an animal is flying and how fast," Franz said. " We can know, down to the second, when a roosting bird decides to wake up and take flight."